Another decent month of sales in July as Toronto Realtors reported the sale of 5,250 homes. While there were 8% more sales than last July, the Bank of Canada's increase in borrowing rates impacted many buyers' ability to buy homes, but those who could afford the new rates jumped into the market.
The inventory of homes for sale remains tight, with only three homes for every buyer. This demand was reflected in July's sold prices as the average home in the GTA sold at 102% of the asking price, showing that when a home is priced right, buyers are willing to commit and buy. As you can see from the chart below, the average YTD price is only 4% lower than 2022's record price of $1,189,850 and has increased significantly over the last 12 months.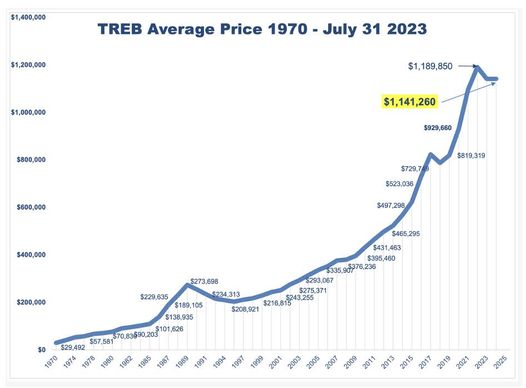 As we enter August, I expect the number of sales to be a similar number to July's numbers as people enjoy the summer and spend time with family and holidays. In September, the number of sales will increase as kids return to school and everyone gets back to their routine of work.
If you are considering buying, I strongly recommend doing it in August while there is less competition. Right now, opportunities exist in all areas of the real estate market. If you are considering buying or selling, give me a call let's chat, after all you have a friend in real estate!
Have a great August!